National ka Pakistan Season 5 is all about discovering the unseen cuisine, music and culture of Pakistan: from historic castles to snowy mountains to Kabuli Pulao to Mian Ji ki daal. The show is a journey into all the beauty that our country has to offer.
Here's our new travel itinerary based on National Ka Pakistan the very entertaining season 5.
A desi beach cookout: Fish Sajji by the sea
Sindh is the land of Sufis, saints and qalandars . The soil itself speaks of its heritage and preserved culture. Delicious food, pure music and loving people are the essence of Sindh.
Iinspired by the famous Tando Adam's Sajji, Chef Saadat gave us a recipe which is worth trying. Next time you are planning to go "darya kinaray" cook up fish on sticks with just a few ingredients.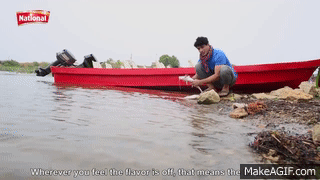 A day trip to city of Strawberries: Nathiagali
National ka Pakistan takes us to the gorgeous city of Nathiagali where the weather is breezy, the food is spicy and the scenery takes your breath away. In the show we learn about the specialties of the area like hot pakoras and Taj Hotel's famous Patakha chicken.
Another scenic destination that is on our bucket list is Kalam, with its lush green mountains, idyllic lake and horses the entire area seems to be straight out of a story book. Chef Saadat roams through the meadows meeting a few goat herders and comes to the conclusion that "this is the life" and frankly, we couldn't agree more!
Kite flying in the rich green farms of Rawalpindi 
The narrow lanes of red brick houses in the 'other twin' city echo with ancient Sufi music.  Musician Shuja Haider discover the history of the harmonium in Rawalpindi and chef Saadat bakes bakar khani bread. Next time we are in Rawalpindi we plan to indulge in a National ka Pakistan style breakfast: nihari and heading out to the rooftops for some kite flying.
Off-roading in Balochistan
The Balochistan episode of National ka Pakistan was full of excitement and undiscovered rugged landscapes. According to National ka Pakistan's Chef Saadat "Jisnay Pakistan main Balochistan nahi dekha, usnay Pakistan nahi dekha" and based on the experiences of the host we have to agree. The next vacation we plan must include some hi-octane four wheelers.

The series is available on YouTube.